Indigo Clothing Co.

---
Overview:
Indigo Clothing Co. was a clothing brand centered around sustainable textiles using a natural dyeing technique called shibori. It started in the summer of 2017 in the backyard of my parent's house. Our founding team was my sister Ali, my best friend Mia, and myself.

In two-ish years we made over $100,000 largely due to our cult-like social media following. We have been worn by Emma Chamberlain, Casey Frey, Lennon Stella, Ayla Tesler-Mabe (Ludic), Summer Mckeen, and more.


Research Questions:

︎︎︎How can we turn an ancient sustainable practice into modernized clothing?
︎︎︎How can we get a young market to buy sustainable clothing?



︎ We did this through tactical marketing and community building.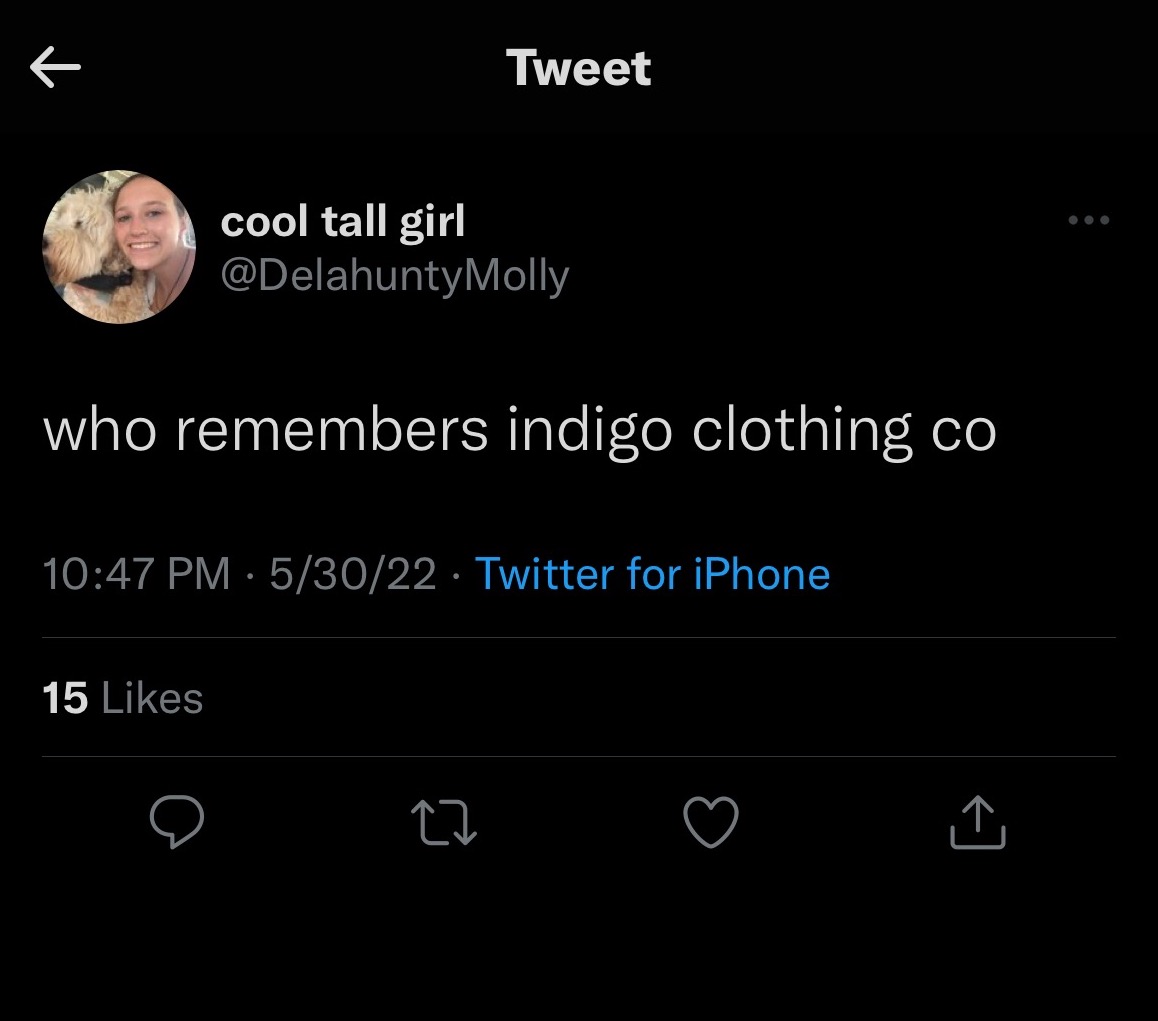 Context:
The textiles industry pollutes the environment with toxins from synthetic dyes in industrial practices.

We created Indigo in hopes of making a clothing line that brought the ancient natural dyeing technique to a modern audience. Shibori can be found in your local suburban mom shop on a scarf or a tote bag.



On market options look like this ︎︎︎

From our Japanese heritage, we have been surrounded by shibori since we were little. We wanted to make sustainable dyes cool for our friends.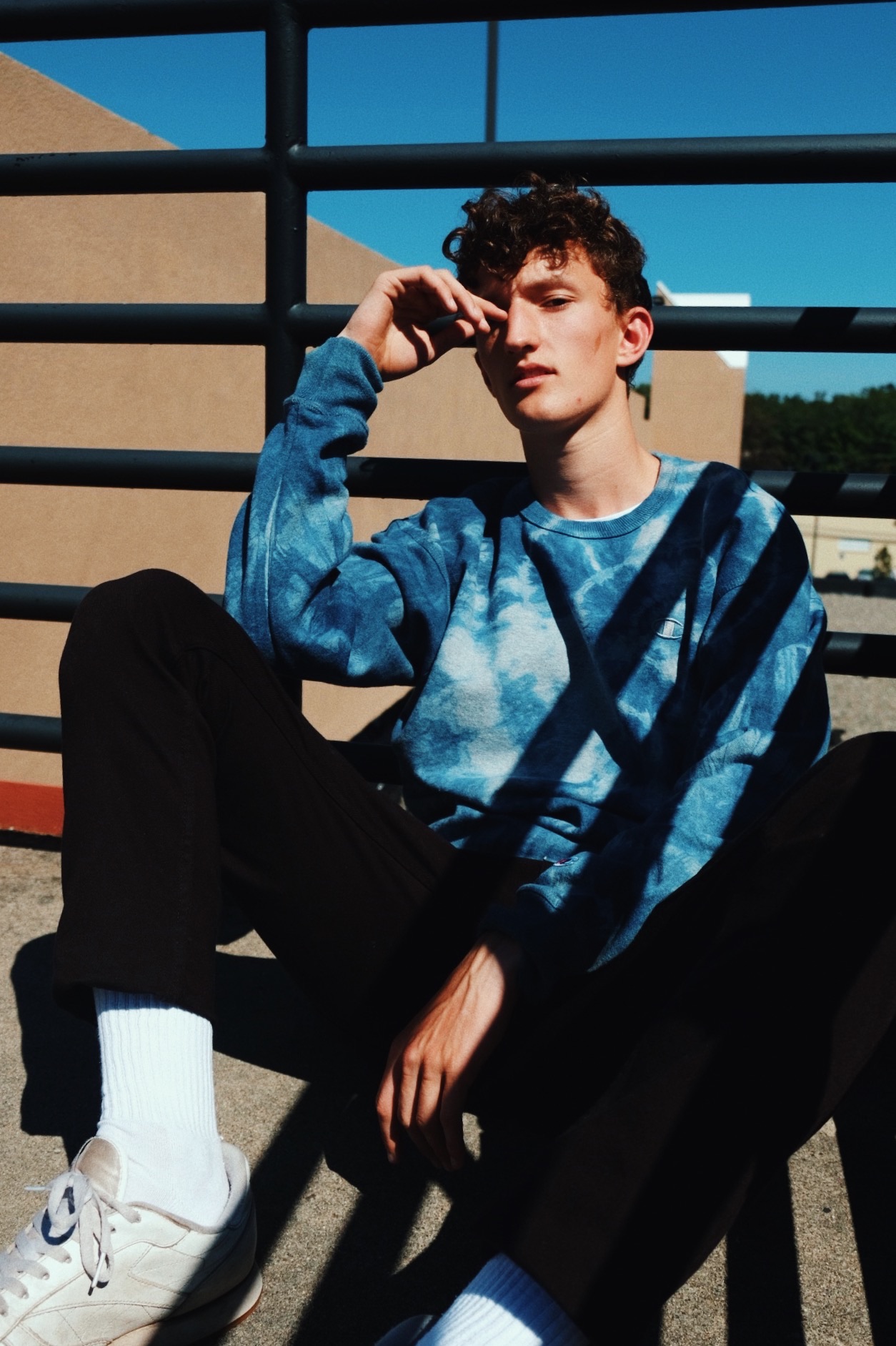 Streetware was an accessible way to provide naturally dyed clothes to our peers. The usual attire of a high schooler is pretty casual, so why fight it? Beside that, streetware valuation was at over a billion dollars at the time with luxury brands turning to adopting sweats and everyday items. It was a bustling scene and was a good time to get in the game.


Marketing and Media:
Because we centered our brand around a specific technique, it became a consistent challenge of developing new ways to sell the same thing.

Selling exclusively blue clothing can feel a little, well, blue. Keeping our social media feed engaging and developing strategic methods to market products that looked very similar was a never-ending puzzle.



Local Marketing:
We built a cult following through social media marketing. We started in 2017, a pre-TikTok era, where Instagram and Youtube ran the ultra-powerful 14-25 women's demographic. Mind you, this was a pre-non-square photo, pre-tags on photos, and a pre-shop feature. We were operating in a very different time.

We initially marketed to people in our hometown through Instagram and word of mouth. Back in the day, we were upcycling clothes we found at thrift stores and dying them blue (our best collection IMO). We would run around our high school with boxes of hand-wrapped clothes and would grab cash from our classmates.

After a good few months of building our brand locally, we began to reach out to social media influencers.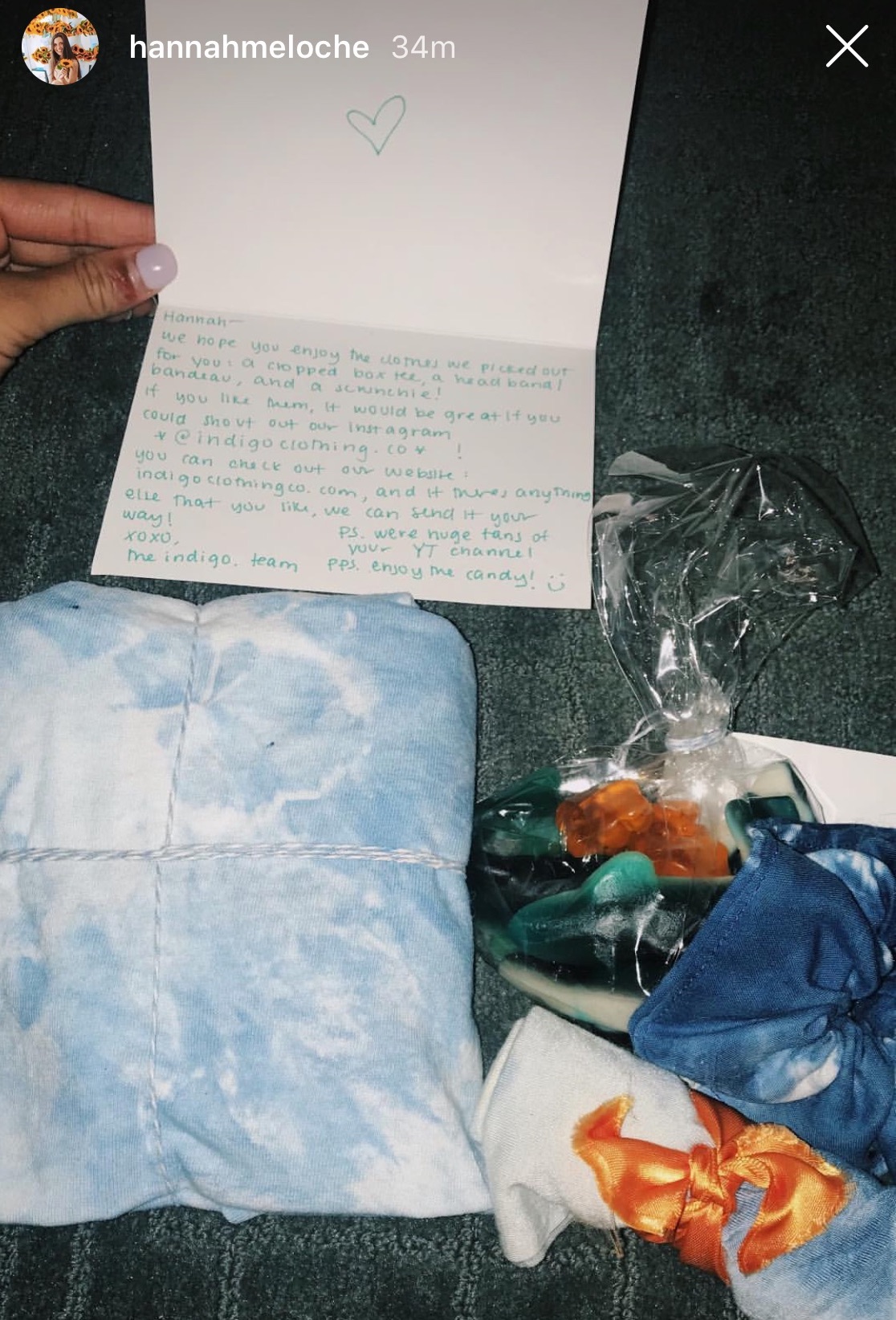 Social Media:
1. Working with social media influencers

Our first big break was an instagram shoutout from Margot Lee, followed shortly by Mackenzie Ziegler (Dance Moms starlet) wearing Indigo in a James Charles video (peak 2017 fame).

In the next couple of years we were worn by Emma Chamberlain, Ellie Thumann, Hannah Meloche, Ava Jules, Haley Pham, Casey Frey, Alya Tesler-Mabe (Ludic), Lennon Stella, Summer McKeen, and Natalie Noel to name a few. Indigo grew exponentially as a result.


2. Strengthening our digital footprint.

We had giveaways every couple of months synched with a major shoutout, structured to strengthen our digital footprint (eg. tagging multiple friends, unlimited entries, like and comment on our feed for extra entries, etc).

As we increased our operations and expanded our product range, we needed more photos. To keep our feed updated consistently, we started having weekly photoshoots. Over time, these became one of the biggest and most fun productions that we pulled off. With more shoots, we needed more models, forming our vibrant community.


Community Building:
Our community became one of our greatest strengths. We started with some friends modeling for us on the weekends that then expanded into a vibrant community.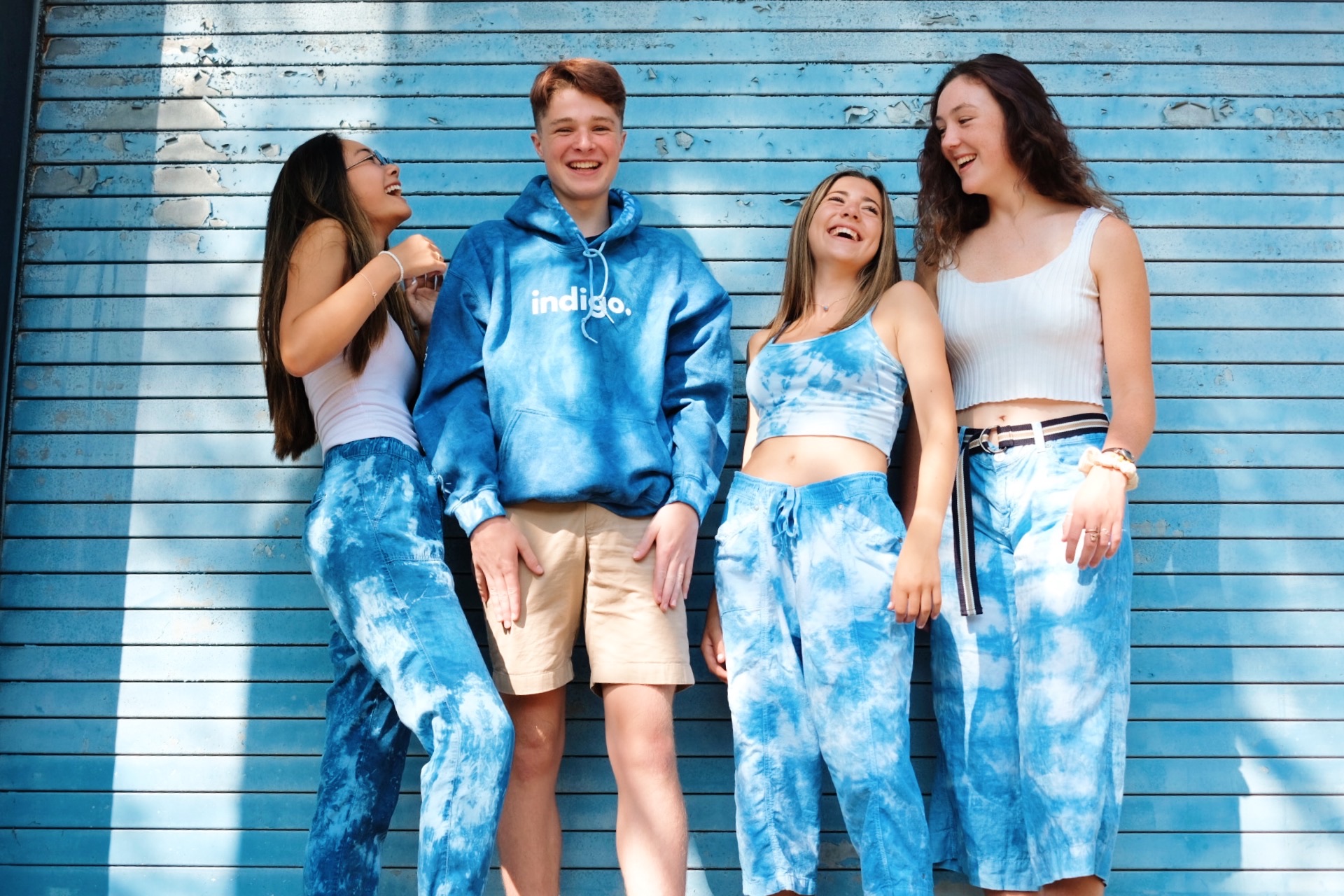 We held multiple open casting calls in the greater Boston area where we had hundreds of participants. The most important thing to us was that whoever joined our community was someone we could be friends with- kind and humble with a good sense of humor.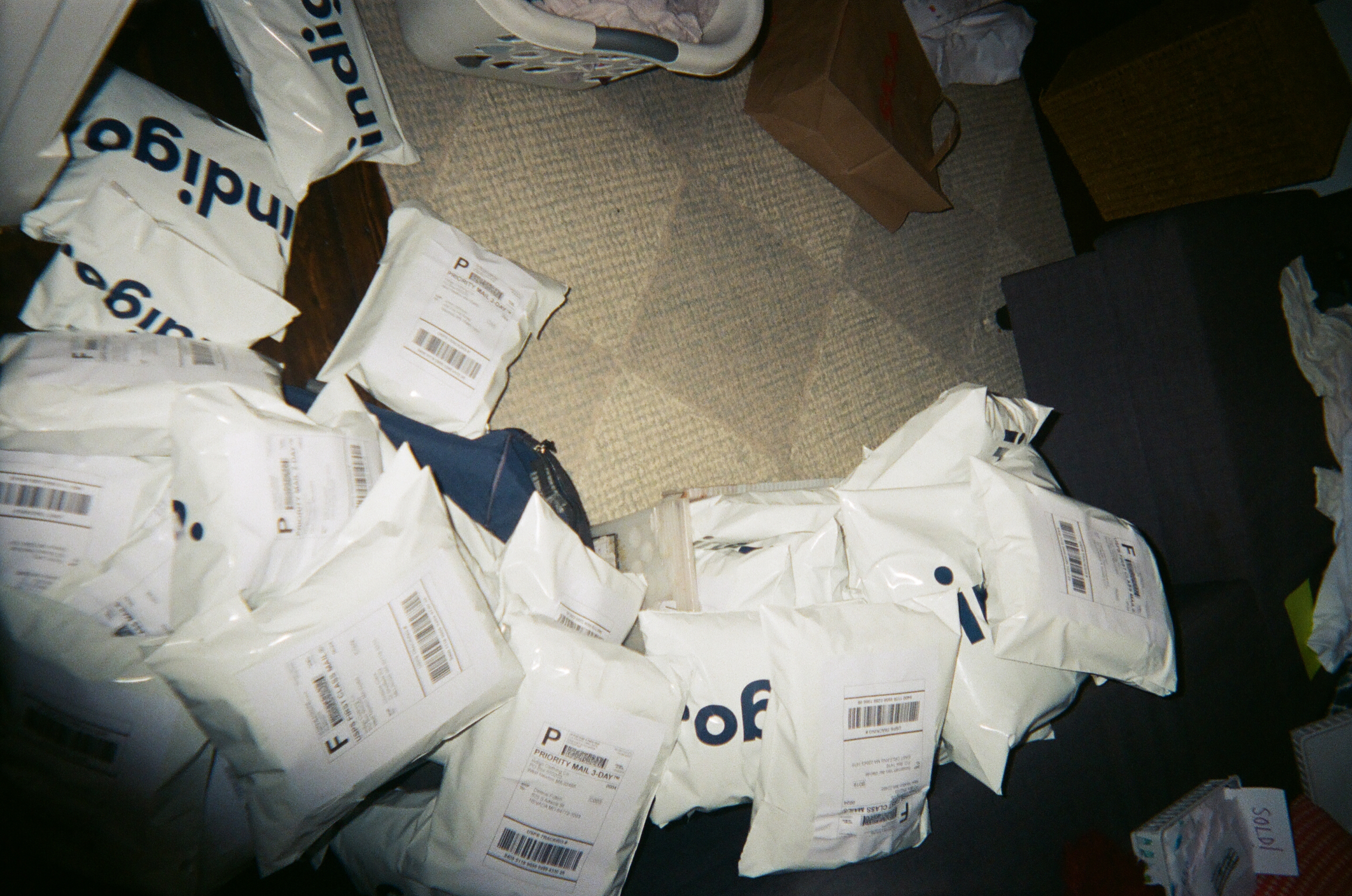 ✳ Take Aways:

1. Various Hard & Soft Skills
Sewing and patternmaking, marketing, social media, stocking and tracking inventory (after many ineffective attempts), social science, community building, communication, and more. Running the brand made me feel capable and completely incapable every day, pushing me to keep learning on the fly and maintain a strong sense of curiosity.

2. How to Sell Stuff
Indigo was a great case study on how to sell anything. We were selling completely un-novel items to the masses. This was like a trial-by-fire master class on how to sell a narrative.

3. How to Make Mistakes (and learn from them)
We made a lot of mistakes with Indigo. One of my biggest regrets was not scaling the brand at the right moment, not bringing on enough help to focus on higher-level ideas instead of production, not being a good enough manager… the list goes on. An abundance to learn from for the next venture.

4. Maintaining and Reevaluating Ethics Systems
There is no pure good under a capitalist system, but there is better and worse. We strived to maintain a clear ethical framework for the brand -- bringing sustianable clothing into the modern age. But in reality, building an independant brand is hard and comprimises should made where they need to.

5. Leadership
Running Indigo put my leadership skills through the wringer. I was constantly learning and reevaluating how to be a better designer, leader, and ultimately, friend.